Modern PC – The Ultimate Tool For Small Business Owners
After the roaring success of Knafeh Bakery, Ameer El-Issa and his family are now setting their sights on a new foodie venture – The Mechanic and Sons.
So, what do a mechanic, a cafe, and a Modern PC all have in common?
Constantly kept busy with running his rapidly growing business (including his recent stint in New York), Ameer needs a reliable and powerful laptop that can not only keep up with his hectic schedule, but can also deliver the same high-level results Ameer expects from himself and his team.
A Modern PC is the perfect addition to the small business owner's toolkit. Lightweight, powerful and with a long battery life, a Modern PC is packed full of handy features beneath its stylish hood. It's the best laptop for business owners who need a device that's both powerful and portable, and doesn't require constant charging.
And that's exactly what Ameer needed to help change a little idea into a big reality.
The inspiration behind The Mechanic and Sons cafe came from Ameer's late father, who was a mechanic for Ford.
"So much of who we are and what we've achieved is because of the values our dad instilled in us," says Ameer of his late father.
"Our Dad was an incredibly humble, generous, hospitable and fun person. We want people to really get to know the man he once was when they come to The Mechanic and Sons – hopefully, everything from the menu to the interaction with our team will portray that."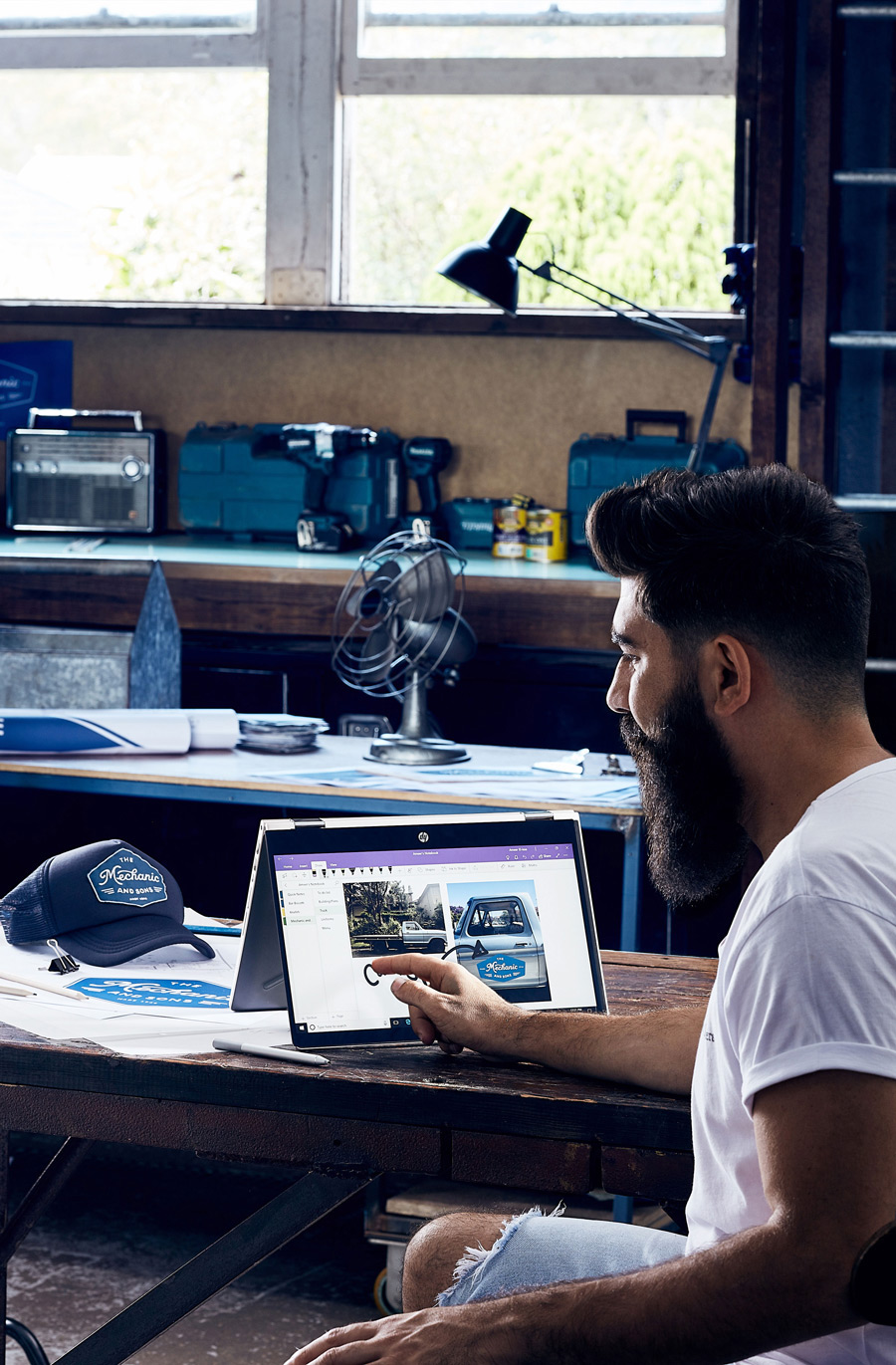 Most of us know of (and may have even eaten at) the famous, travelling Knafeh Bakery. Built in the back of a shipping container, the mobile kitchen serves up delicious food, great hospitality and fun-filled entertainment. The focus here is on a warm, happy atmosphere and fantastic customer service.
Ameer plans on bringing those aspects to The Mechanic and Sons, too.
"The café will have its own personality. Some of The Bearded Bakers will also work there, and a lot of who we are – the fun, the joking, the storytelling – is because of who our Dad was, so even though it will have its own identity, we're confident people will still love the experience."
There will also be a focus on the fantastic food we've come to expect from The Bearded Bakers.
"Mum's baking will definitely be on the menu, along with a lot of Dad's breakfast favourites. We want to focus on simple, humble, hearty food – experience has taught us simplicity is key – and that's what we'll be focusing on."
It was on the back of their mum's famous family knafeh recipe that Ameer and his brother Joey first made a name for themselves as The Bearded Bakers; and it was the popularity of Sydney's Knafeh Bakery that allowed them to take their business to Melbourne and New York, and which also led to the creation of The Mechanic and Sons.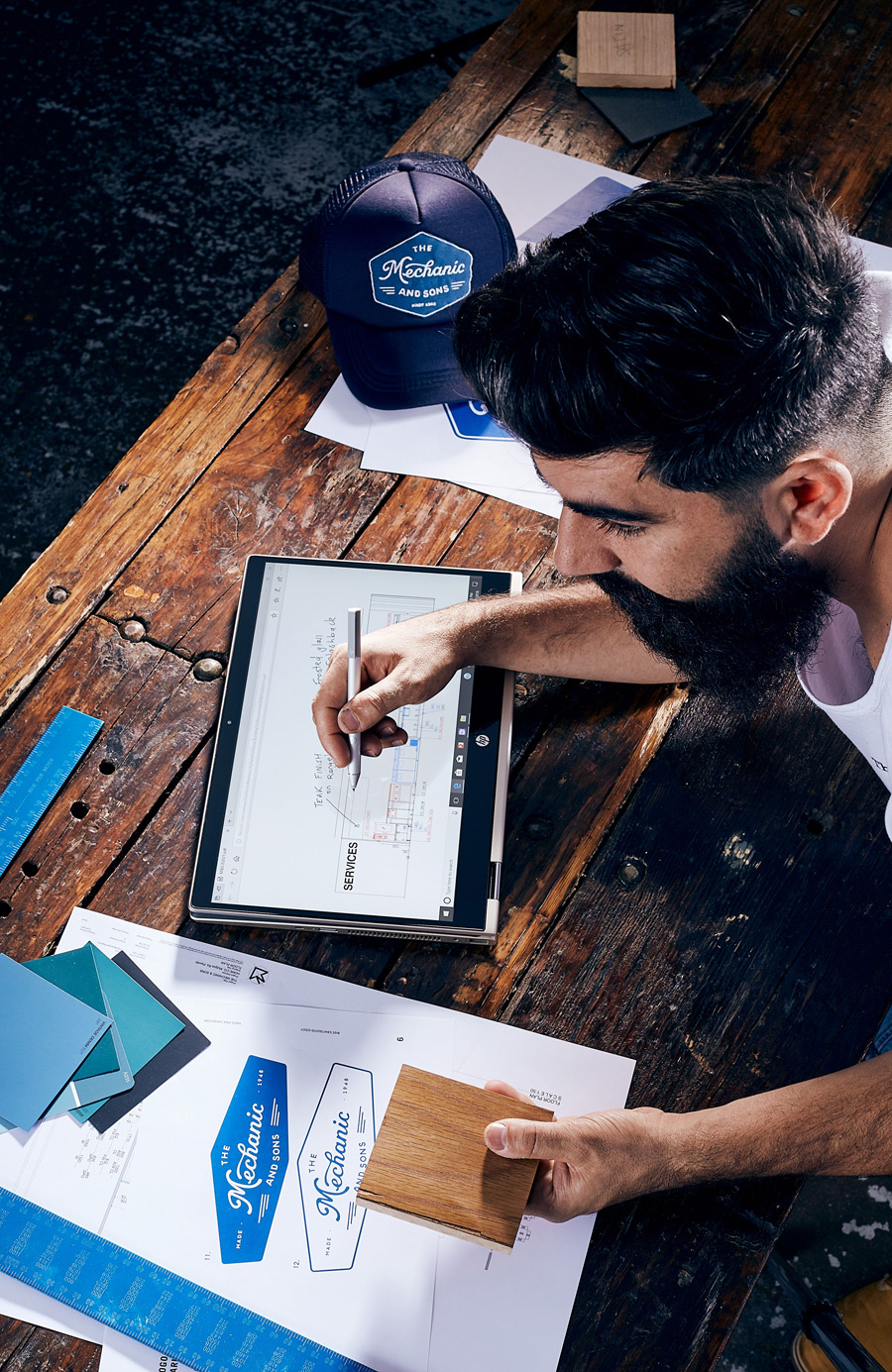 But amazing success stories like this don't just happen overnight. It takes years of hard work and dedication to make these dreams a reality.
For a business owner who's always working on new ideas and projects while on the move, the portability of a Modern PC is a huge benefit for Ameer.
Constantly on the go, he uses his Modern PC for "everything from emails to setting up our rosters, working on new concepts and projects, and developing visuals and content for our creative and marketing team."
"I can get things done faster and on the go. Before I had to wait until the days I had time to make it into the office – which weren't frequent, nor very business-friendly hours. Now when I'm thinking about it, I can do it."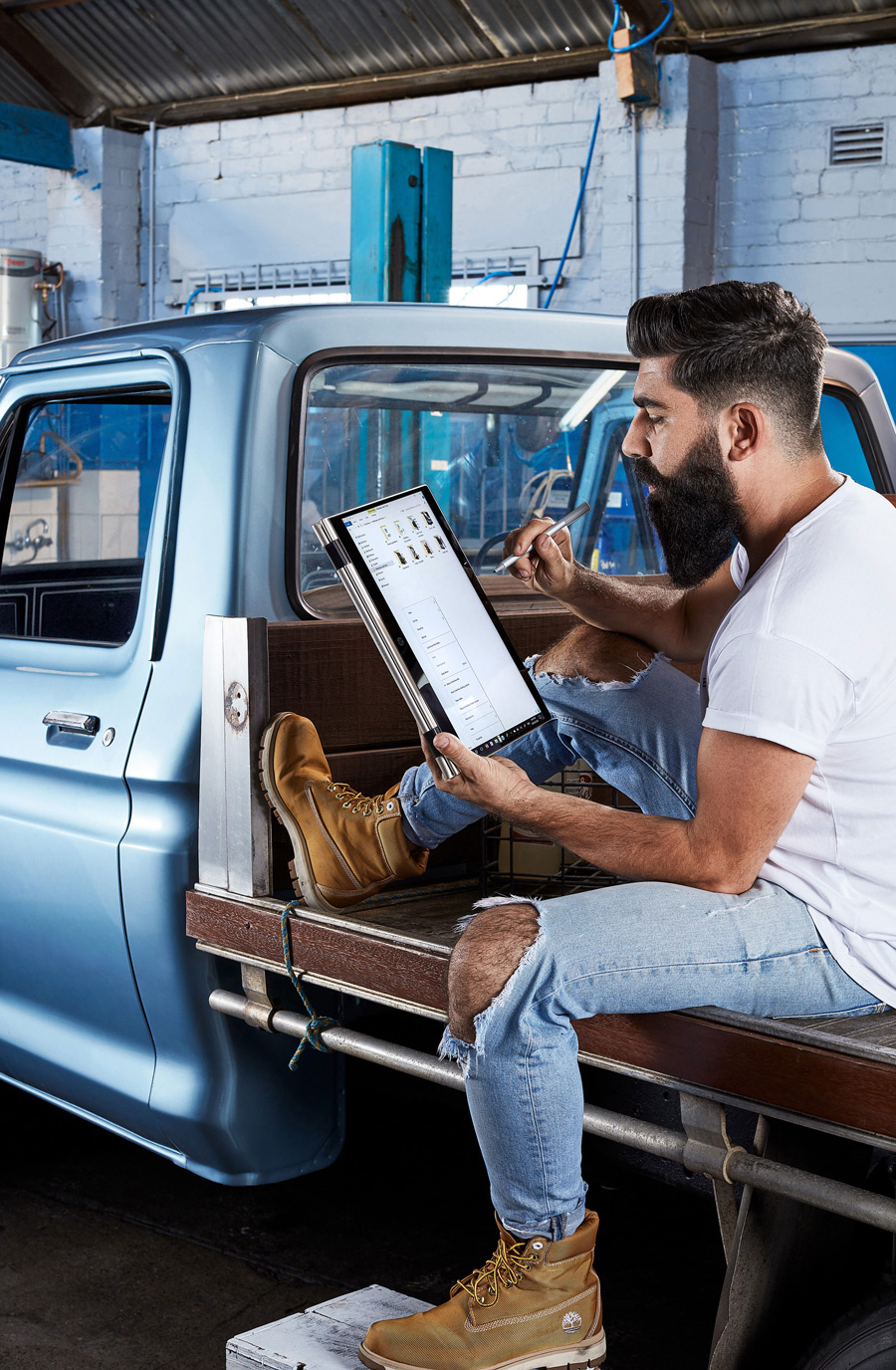 A Modern PC makes for an invaluable tool for small business owners who find themselves constantly moving.
Important documentation, timesheets, marketing material, calendar schedules, stock ordering sheets and more can all be stored safely and securely on the laptop, or accessed via One Drive.
One Drive can also be used to collaborate with business partners, designers, or anyone else, and is an exceptionally convenient feature for Ameer, who is always on the go. He says the freedom he now has and the ease-of-use of One Drive has made a world of difference to the way he works.
"To have access to our files and be able to flick them off to collaborating partners quickly and easily – whether from my PC or phone – has changed the way we work. No more waiting for someone else to pass on a logo or menu files to printers and the like."
The MS Office Suite, another invaluable tool for small business owners, is geared towards effective and streamlined multi-tasking . It's helped Ameer with his day-to-day demands.
"We've got a full suite of tools at hand to help us achieve what we need to. Outlook is great for organising our emails and schedules, but it goes further than that – being able to create media kits and info decks from Word or PowerPoint – they've both come a long way in terms of editing features to modify images and format information – it makes us look like we know what we're doing!"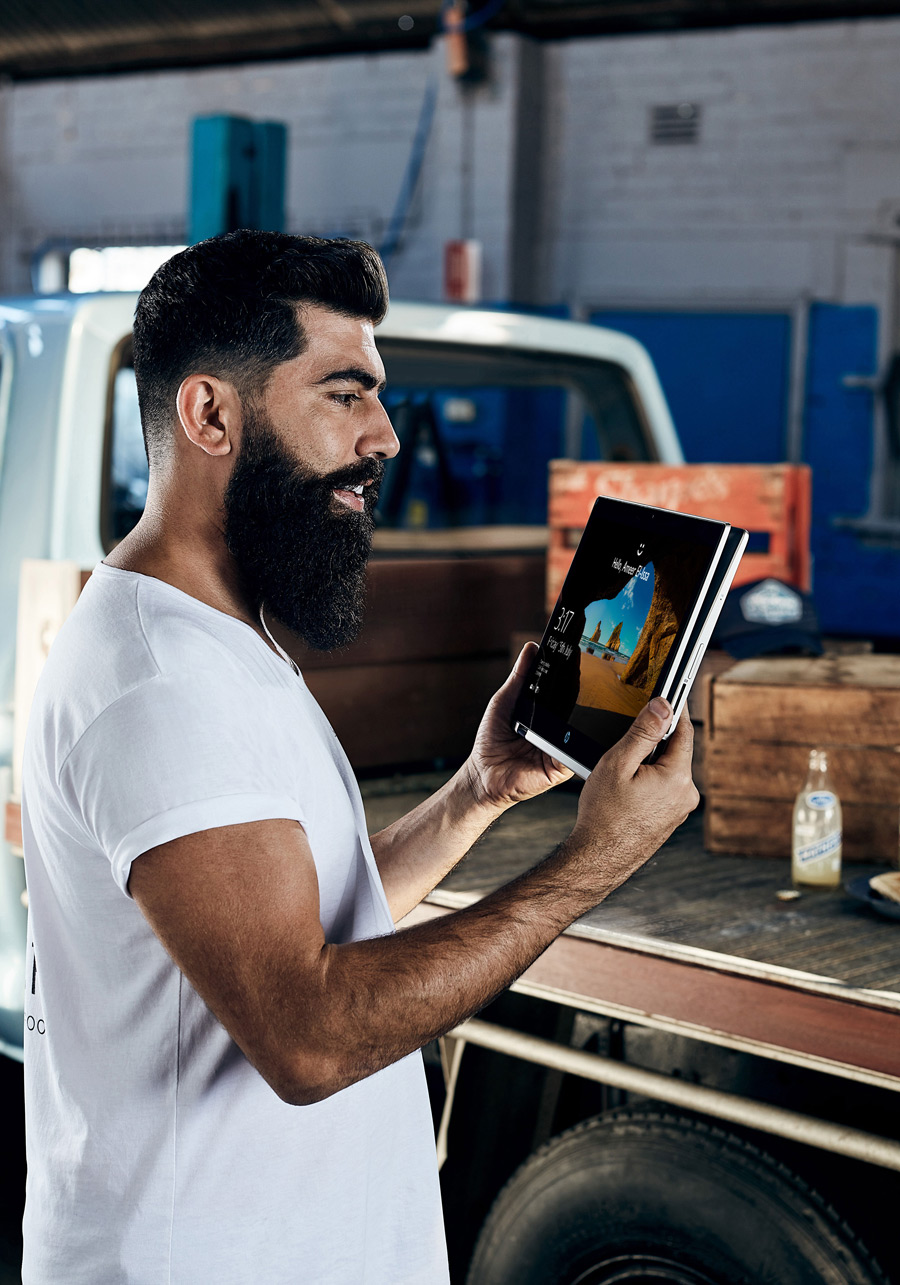 Our Top Choices for Modern PCs
Compared to just a few years ago, Modern PCs are thinner, lighter and faster than their older counterparts, and offer exceptional battery life. The days of lugging around a big, clunky machine with a cumbersome charging cable are (thankfully) long gone.
The flexible touchscreen capabilities of a Modern PC mean you can work however you want, wherever you are, whether you prefer to use it in tablet mode or as a laptop.
If you're in the market for a Modern PC that can keep up with your busy lifestyle and meet the demands of your day-to-day, then check out our below choices for the best laptops for inspiration.
HP Pavilion x360 14-BA111TU 2-in-1 Modern PC.
What makes it a Modern PC: This powerful, portable laptop gives you the best of both worlds – a lightning-fast SSD for quick boot ups and a huge 1TB HDD for all your files, photos, documents and more.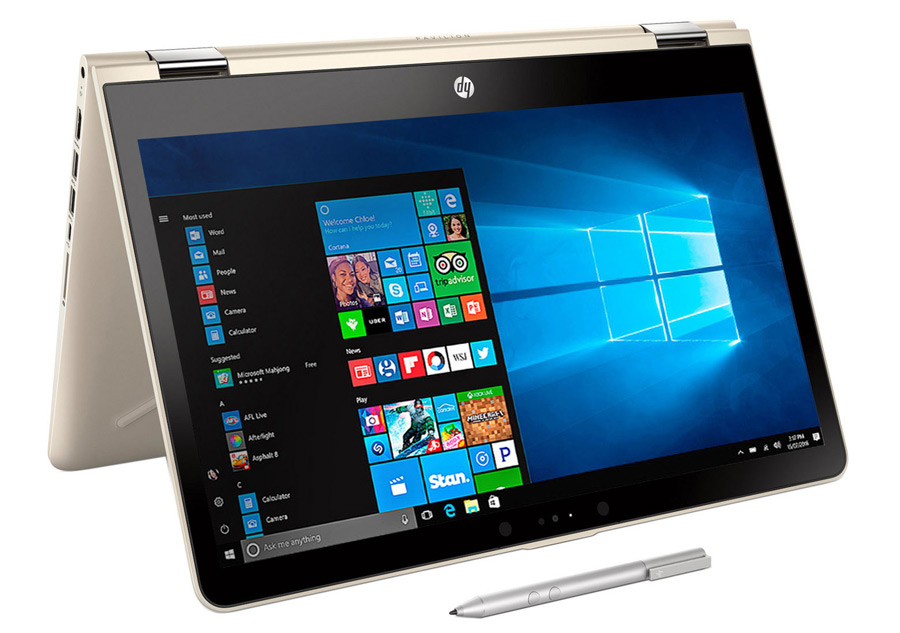 Tech Specs: 8th Generation Intel® Core™ i5 processor, 8GB RAM, 128GB SSD + 1TB HDD, shared graphics, 14″ touchscreen + active stylus pen, Windows 10.
What makes it a Modern PC: Besides boasting an incredibly powerful 8th Generation i7 processor, the Acer Spin 5 also comes with 8GB RAM. Whatever you throw at it, there's almost nothing this 2-in-1 laptop can't handle.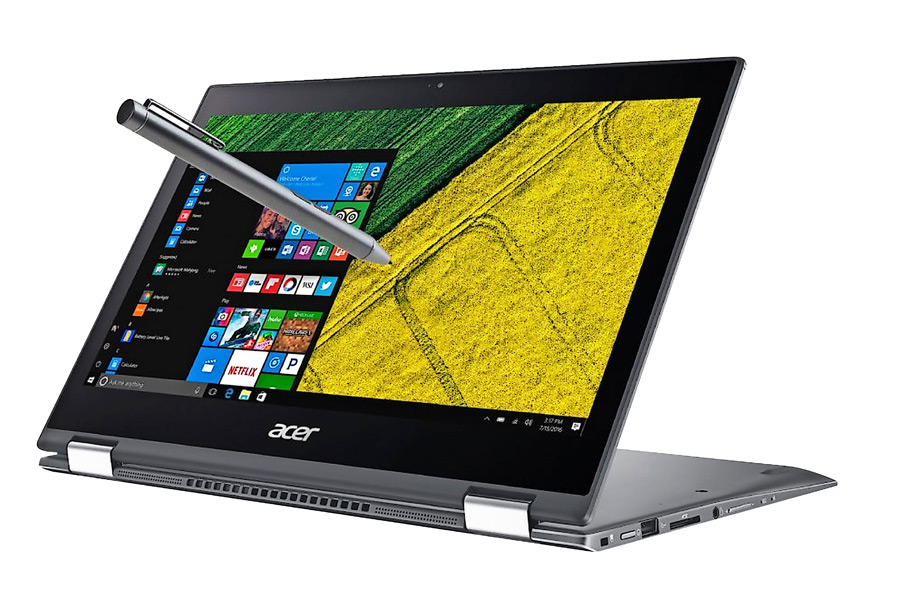 Tech Specs: 8th Generation Intel® Core™ i7 processor, 8GB RAM, 512GB SSD, shared graphics, 13.3″ Full HD touchscreen + active stylus pen, Windows 10.
Lenovo Yoga 720 2-in-1 Modern PC.
What makes it a Modern PC: Small but mighty, this Lenovo device is perfect for people who are always on the move – whether that means dashing between client meetings or the next destination on your whirlwind, world-wide trip. But don't be fooled by its compact design – there's a super powerful i7 processor as well as a 256GB SSD beneath that slick chassis.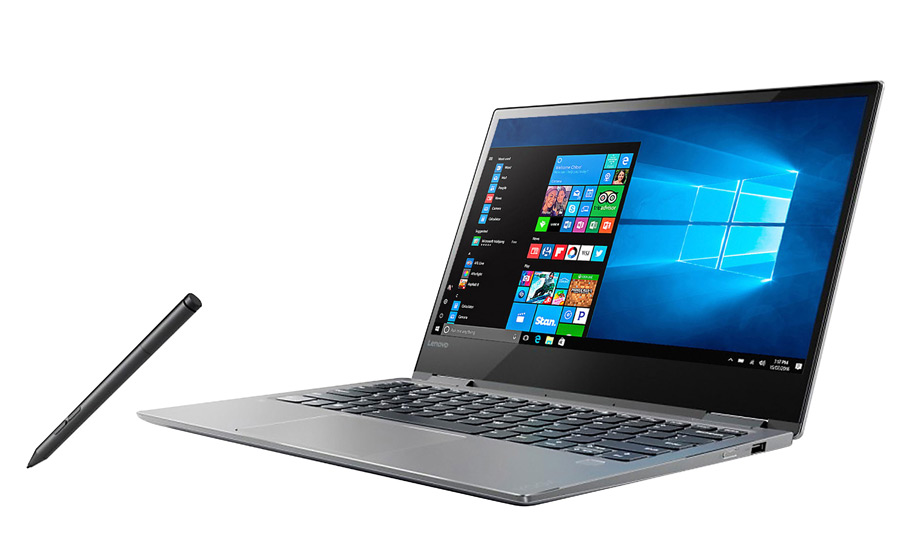 Tech Specs: Intel® Core™ i7 processor, 8GB RAM, 256GB SSD, shared graphics, 12.5″ Full HD touchscreen + active stylus pen, Windows 10.
Asus Zenbook Flip 14 UX461 2-in-1 Modern PC.
What makes it a Modern PC: The 8th Generation i5 processor and 8GB RAM make it ideal for multi-tasking, so you can juggle multiple jobs on the go. On top of that, the generous 14" touchscreen is great for visual thinkers who want to be able to sketch out their next big idea.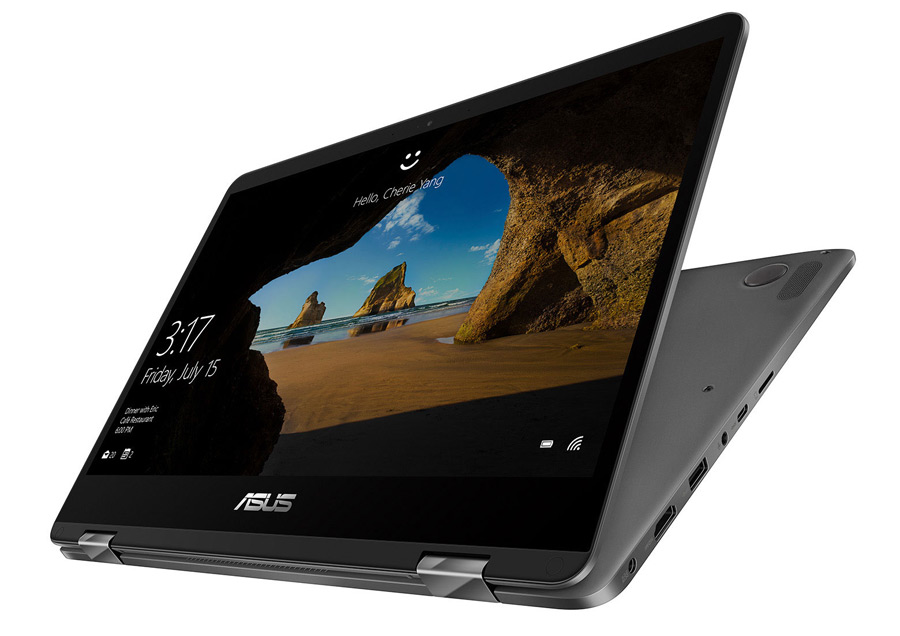 Tech Specs: 8th Generation Intel® Core™ i5 processor, 8GB RAM, 256GB SSD, shared graphics, 14″ Full HD touchscreen + active stylus pen, Windows 10.
Inspired to take the next step up and invest in a seriously powerful Modern PC?
You can shop laptops online now, or you can drop in to your local Harvey Norman store and talk to our friendly staff about which Modern PC is right for you. Our highly-trained Techteam staff know just about everything there is to know about computers, and they're more than happy to answer any tech-related questions you have.