Game-Changing Gaming Accessories
In the market for gaming accessories? Whether you're after a new gaming keyboard and mouse combo that you can count on under pressure, a dedicated gaming router to really beef up your network, or a Mixed Reality headset to take your gaming to a whole new level, there's a lot of choices out there when it comes to the latest in technology.
Not sure how to narrow down your search for the ultimate gaming gear? Harvey Norman is here to help. Read on to find our top picks for gaming accessories that will give your game a boost.
Get the edge you need with the right gaming peripherals
When it comes to high-tech gaming gear, you need to invest in quality.
You might have a totally sweet rig set up and jam-packed with the hottest technology, but no matter how much punch your computer packs, you need some decent accessories to act as your support.
One of the most well-known gaming accessory brands out there is Razer, and for good reason. Razer gaming peripherals are engineered for pro-grade gaming, and a lot goes into their design and development to make sure that they can keep up with the best.
At PAX AUS in Melbourne a few weeks ago, I caught up with Lawler from Razer to chat about new products and what makes Razer such a great choice for gamers.
"Razer was the first company to develop a gaming-specific peripheral. When we first came out with the Boomslang [gaming mouse], everyone thought we were crazy," Lawler laughed.
"Now, we work with e-sports athletes around the world to help develop our products, and we do a lot of research [in partnership] with them.
"Team Liquid, one of the teams that we sponsor, recently won the DotA 2 world championship. They took home $10.8million USD."
Queue appreciative whistle.
Razer Naga Hex V2 Gaming Mouse
Since the development of the original Boomslang mouse, Razer has continued to dominate the market with their cutting-edge gaming accessories.
The Razer Naga Hex V2 Gaming Mouse is designed for die-hard MOBA players, with an intuitive mechanical thumb wheel that gives you quick access to multiple commands.
With instant access to your hot keys, you can make sure that you've primed your attacks before your enemies can even register they've just been smoked.
You can even select from specially-designed gaming profiles, depending on what game you're playing and what your character's role is. Just activate the relevant profile through Razer Synapse and you're ready to go.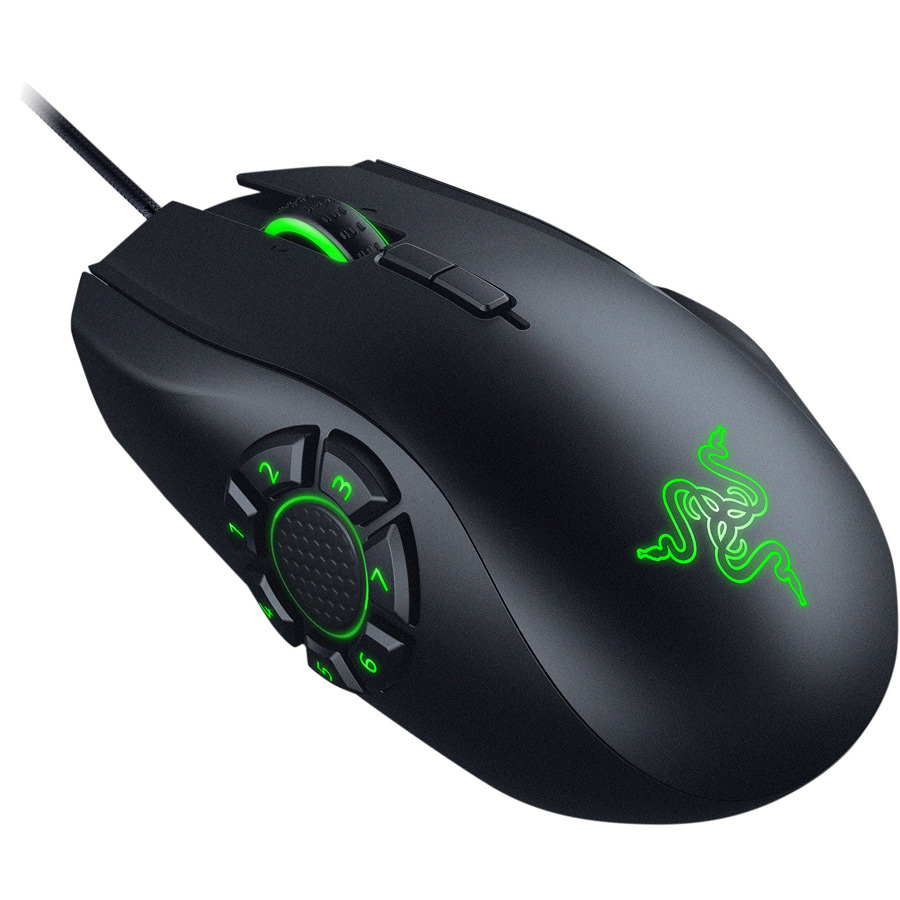 Razer ManO'War 7.1 Gaming Headset
For a truly immersive experience, you need a decent headset.
The Razer ManO'War 7.1 Gaming Headset brings you high-fidelity sound in a super comfortable design. With a state-of-the-art 7.1 virtual sound engine and 50mm drivers, you'll feel as if you're really part of the action.
Plus, that super comfortable design I mentioned? The plush ear cups also act to minimise distracting outside noises, so you can focus on what's really important – getting that wicked headshot.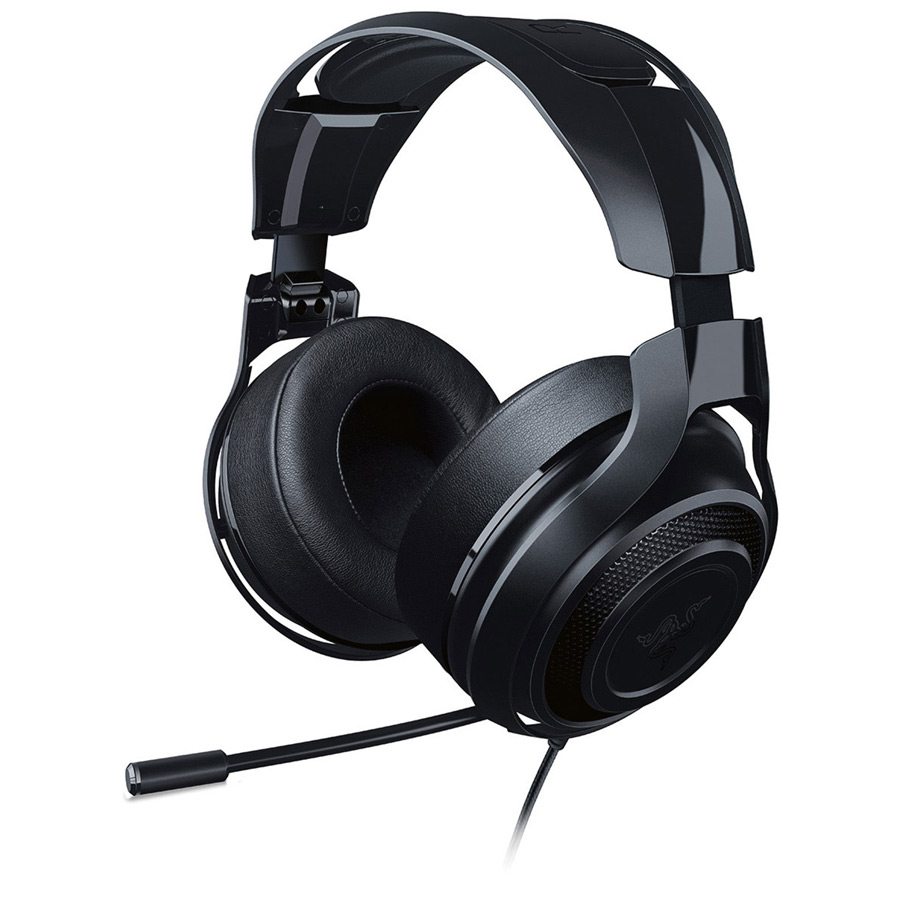 Razer Basilisk Gaming Mouse
One of Razer's newest releases is the Razer Basilisk Gaming Mouse, aimed at FPS gamers. This hardcore gaming mouse features a mind-blowing 16,000 DPI, which you can easily adjust with the handy DPI clutch located on the left hand side of the mouse. This feature allows you to change up the sensitivity for precision aiming – or, as Lawler calls it, "Pixel perfect headshots."
While it hasn't hit Harvey Norman's shelves just yet, keep an eye out for this powerhouse in the very near future.
Logitech G613 Wireless Mechanical Gaming Keyboard
As the technology behind gaming accessories grows ever more advanced, Logitech have now introduced their exciting range of LIGHTSPEED wireless gaming accessories.
It was at PAX AUS that I had the opportunity to speak to Logitech guru Marco about the new range of LIGHTSPEED gaming peripherals, like the Logitech G903 LIGHTSPEED Wireless Gaming Mouse and the Logitech PowerPlay Wireless Charging System (which you can read about right here).
In addition to these revolutionary devices, there's also the Logitech G613 Wireless Mechanical Gaming Keyboard, which caters to gamers who want the freedom of wireless combined with the raw power of traditional wired accessories.
The G613 Keyboard features everything you'd expect from a hardcore gaming keyboard, including advanced Romer-G mechanical switches with a travel distance of just 3mm and programmable keys. And, thanks to LIGHTSPEED technology, you can enjoy an ultra-fast report time of just 1ms as well as a slick, cable-free gaming setup.
The only thing missing is the RBG lighting that people have come to expect in their gaming gear, with battery life (a truly impressive 18 months) given priority over looks.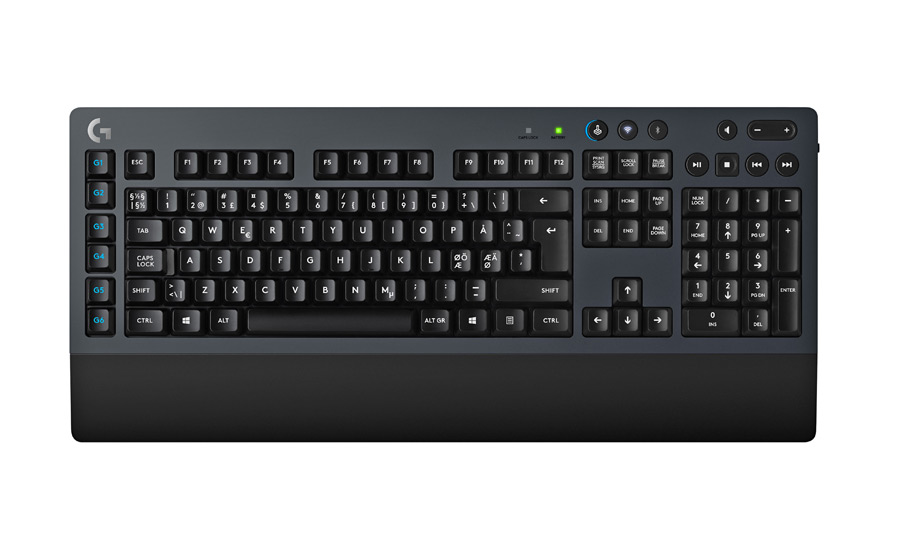 Burn rubber with the latest Logitech gaming wheels
Logitech Driving Force Wheel
While I don't claim to be a rev head (I drive a four-cylinder Yaris called Ladislav), I know one thing's for sure – Logitech's range of Driving Force Gaming Wheels are second to none.
With the increasing popularity of games like Forza and Project CARS, the demand for gaming accessories that provide a more realistic experience has grown, too.
Logitech delivers with the Driving Force Racing Wheel, an advanced gaming wheel that gives players exactly what they want.
These super advanced Driving Force Racing Wheels for PC, Xbox and PS4 offer an unparalleled experience for players who love their racing games.
The innovative design means that you actually feel your tyres on every turn, giving you more realistic overall experience.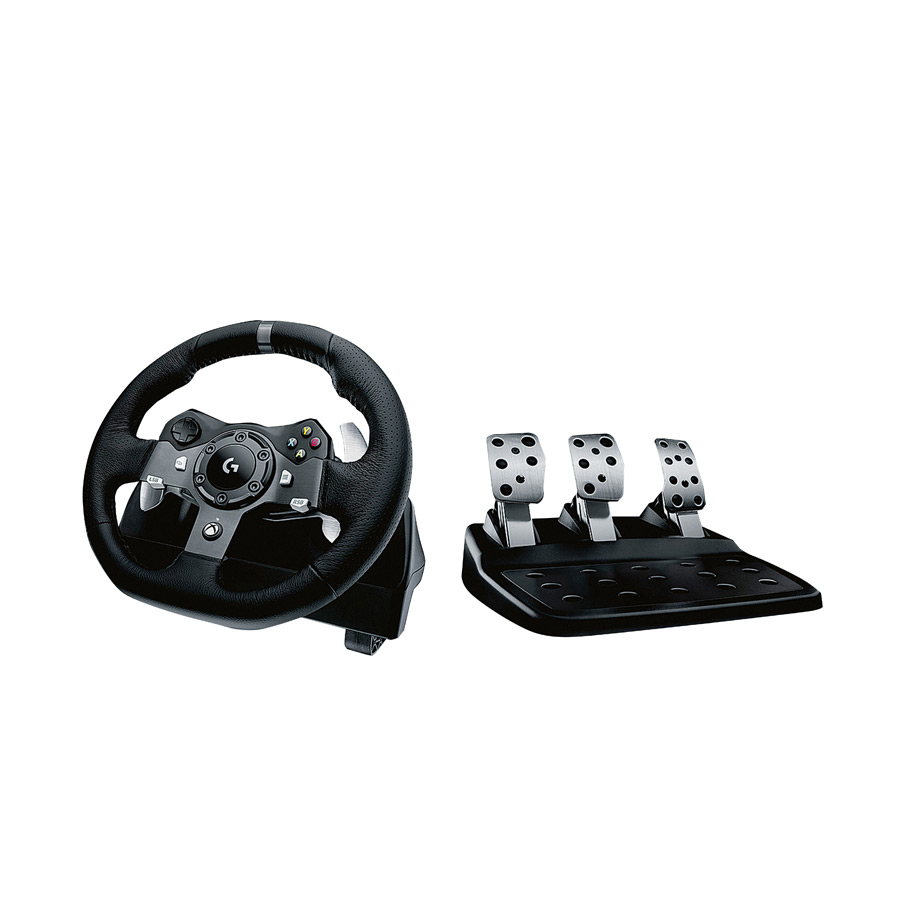 Speaking again to Marco at PAX AUS, I asked him what was so good about Logitech's gaming wheels.
"Things like the paddle shifter and dual-motor force feedback add to the whole experience," Marco explained. "You can feel through the wheel if you're under- or over-steering or hitting the ripple strips… and you just don't get the same experience with a keyboard and mouse or a controller."
It also comes with a set of stainless steel pedals for that true race experience, and you can even add a Driving Force Shifter to complete the package.
As if that wasn't enough, the Logitech gaming wheel is also covered in premium, hand-stitched leather that is designed to go the distance. Not only is it comfortable and durable, but its first-rate look and feel gives the appearance of a pro-grade race car.
For rev heads who just can't get enough, add a custom-built Alcantara Playseat Racing Seat to complete your ultimate gaming setup.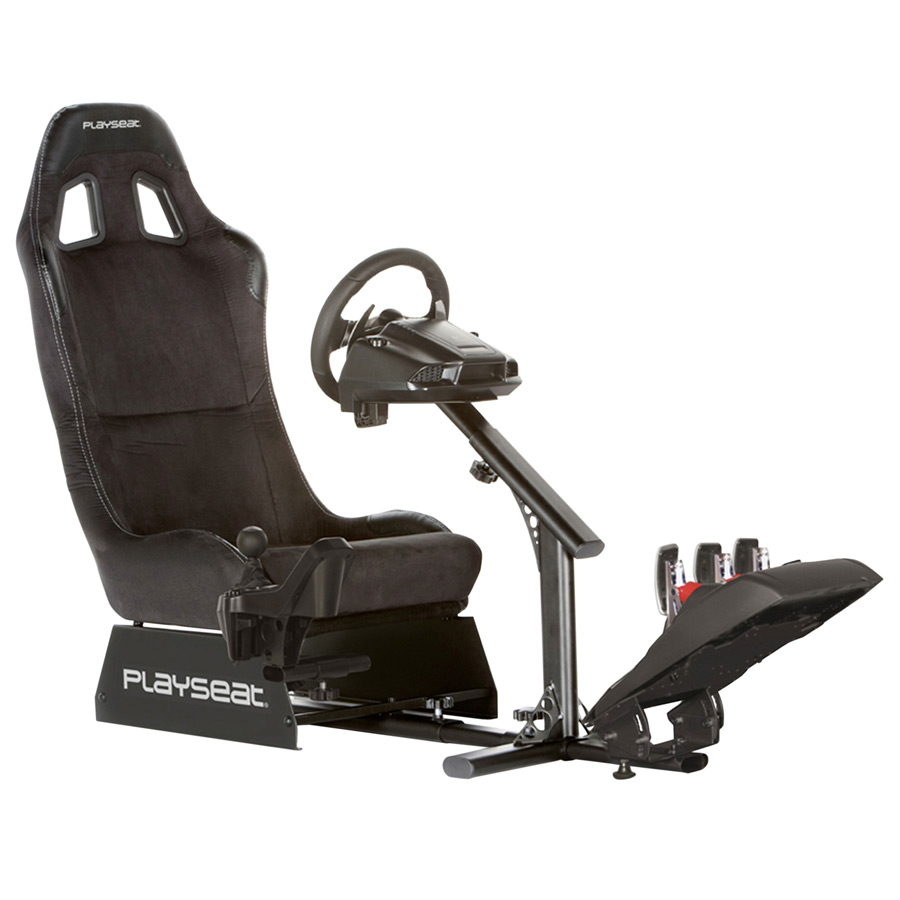 Enter a whole new reality with Windows Mixed Reality
While at PAX AUS, I caught up with Sid, a Windows Ambassador who was helping customers at the Harvey Norman stand.
When it comes to Mixed Reality, a lot of people have been asking the same question:
"What exactly is the difference between Augmented, Virtual and Mixed Reality?"
With his in-depth knowledge, Sid was able to give me a straight up answer. "[To engage with] Virtual Reality means that you're blocking out the physical world and that you are interacting with a purely virtual world. Whereas Augmented Reality is where you can still interact with the world around you, but you have aspects of the world that are altered digitally."
For example, Lenovo Star Wars Jedi Challenges is an augmented reality game where you hold a controller which, when you put on the Mirage headset, becomes a lightsaber. You then use your controller to fight virtual bad guys like Kylo Ren, who appear to move around the physical world instead of against a virtual background.
Sid continued, "Mixed Reality is where the cameras are built into the [headset]… allowing you to interact with the virtual world while still being aware of the physical world around you."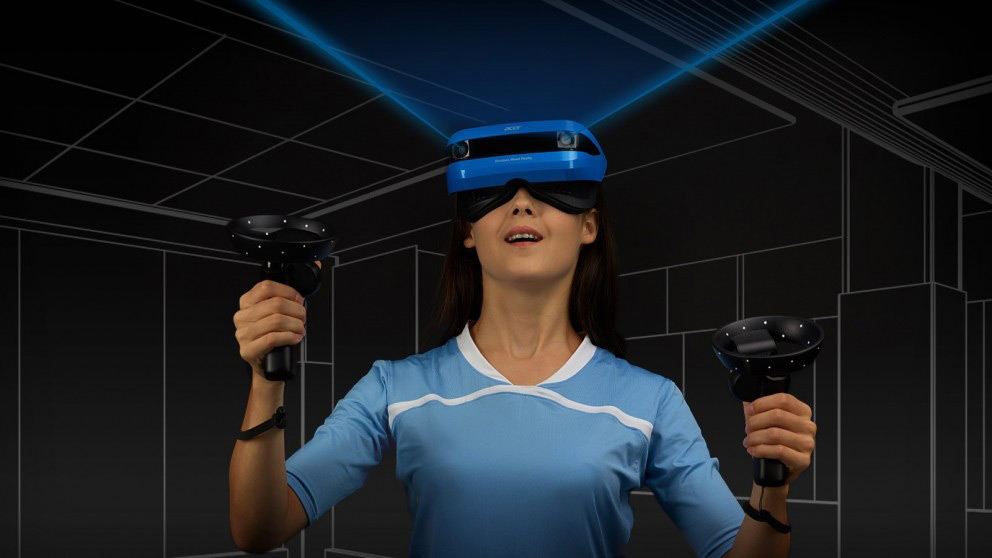 So while what you're seeing is a completely virtual world, your Windows Mixed Reality Headset is still aware of the physical world around you. This means that if you're heading towards an obstruction, a virtual wall will pop up on your headset screen to stop you from bumping into said obstruction.
I tried out the Acer Mixed Reality Headset myself at PAX AUS recently, and for my first Mixed Reality experience, it was pretty incredible!
Acer Mixed Reality Headset
The new Acer Mixed Reality Headset comes pre-installed with the brand new Ghostbusters game, and, as a massive Ghostbusters fan, I couldn't wait to jump right into the game.
Sid helped me adjust the headset to get it sitting just right, and then I was thrown into the world of Ghostbusters.
Using the Acer motion controllers, I moved through my virtual world. Upon discovering that I could pick virtual items up with the controller, I proceeded to spend way too much time picking up hot dogs from a nearby food cart and then throwing them onto the ground. It wasn't until a friendly word from Sid reminded me to get on with my mission.
Hearing Sid's voice was slightly disconcerting, as, with the headset on, my entire vision was consumed by the virtual Ghostbusters world. This is a truly immersive experience for players, and can be a little disorientating for first time users. But it didn't take me too long to get the hang of things, and soon enough, I was using my proton blaster to cause mass destruction to any ghosts unlucky enough to get in my way, as well as my immediate surroundings.
Unlike the Lenovo Star Wars Jedi Challenges game I'd played previously, the Ghostbusters game completely immerses you inside the experience.
While you know you're wearing a headset and that this environment isn't real, your senses are almost completely fooled by the sharp, detailed images and smooth gameplay. While the word may seem overused when it comes to gaming, 'immersive' really is the best way to describe the experience.
Windows are calling it 'the era of Mixed Reality', and you better believe that this is a new turning point in the gaming arena.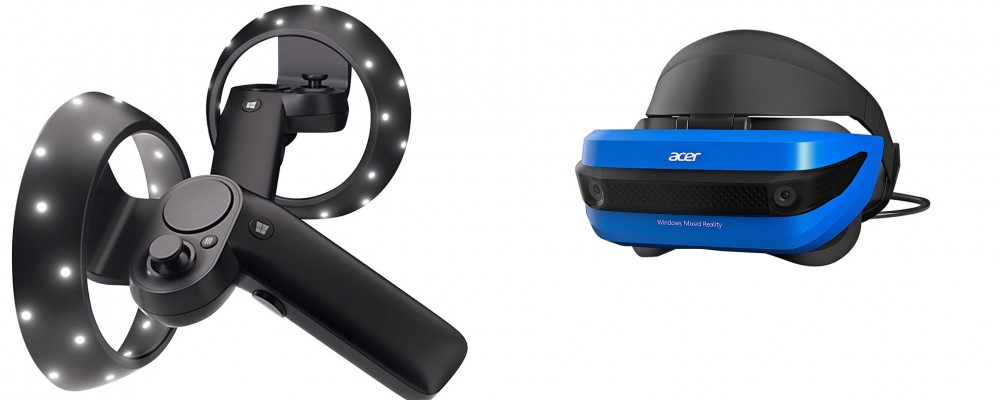 Upgrade your network with a dedicated gaming router
When we talk about gaming accessories, you may not think immediately of routers. But the truth is, the right router can make all the difference to your gaming experience.
With this in mind, it's important that you invest in a gaming router that can handle the pressure that online gaming demands.
Linksys WRT-32X Gaming Router
One man who knows better than anyone else the importance of a high-grade gaming router is Vince La Duca, the genius behind the Linksys WRT32X Gaming Router.
This is a man who knows his stuff, and when I spoke to him one-on-one at PAX AUS it was clear that he was passionate about delivering a high-grade product that met the demands of Linksys' customers, while still being an affordable option for gamers.
"Because of the growth we've seen in online gaming, with the popularity of e-sports really pouring gas on that fire, a reliable and fast internet connection has become more important than ever.
"Gaming is no longer just a past-time, but a competitive activity. That's why it is so crucial to have the lowest ping times because of that competitive aspect. If your connection is bad and you pull the trigger on an enemy, that enemy could have already moved off and you're just shooting at nothing."
According to Vince, the major aggravator for gamers playing at home is when other people in the household jump online. You can't just kick everyone off the network, and who has time to manually cap the bandwidth of each connection? So, failing those options, how do you ensure that your ping rates remain at their best?
Enter the Killer Optimization Engine, which is capable of reducing peak ping times by up to 77%. Once synced with a Killer-enabled PC, the WRT32X is able to use this technology to identify and prioritise gaming traffic ahead of other traffic (such as streaming videos or music), keeping you online and in the game.
Then there's the beautifully simple user interface.
"The networking dashboard isn't a video game," Vince joked. "One of the key things we wanted to do when we were developing this product was not just to include powerful hardware under the hood, but create this simple and elegant user interface around it."
Easy to set up, gamers will find the UI refreshingly simple to use. "It may have a very powerful networking stack, but we only brought out those key things on the dashboard that gamers need. [It's designed] so that gamers can get their network set up and then get back to gaming."
The WRT32X was built "from the ground up," as Vince puts it. Combining the customised networking stack with existing enterprise-grade components means that the WRT32X has been custom-engineered for gaming. Because of the hi-grade firmware installed in this router, it lessens the need for additional antennas or a beefed up processor. While its design still looks impressive, it's what's beneath that slick exterior that really makes this baby a forced to be reckoned with.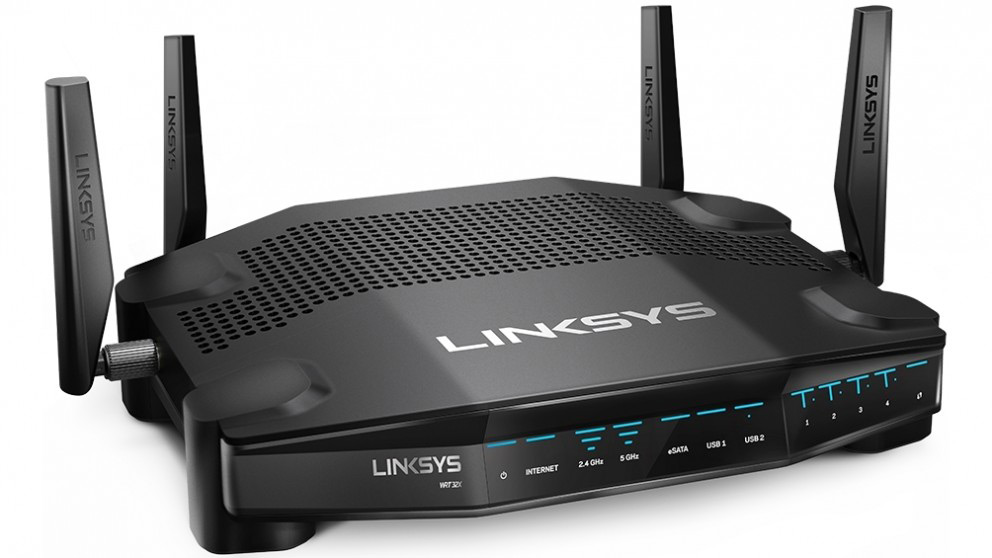 Asus DSL-AC88U AC3100 Dual-Band ADSL/VDSL Gigabit Wi-Fi Modem Router
The perfect all-rounder to keep everyone in the household happy, the NBN-ready Asus DSL-AC88U Modem Router is perfect for gaming, 4K content streaming and web browsing.
Forget lag and buffering. Featuring the latest future-proofed G.fast technology and providing a total speed of up to 900Mbps, it can easily handle even the most bandwidth-intensive duties.
And, in addition to its four antennas, AiRadar beamforming also assist in focusing the Wi-Fi signal, ensuring your connection is fast, strong and uninterrupted.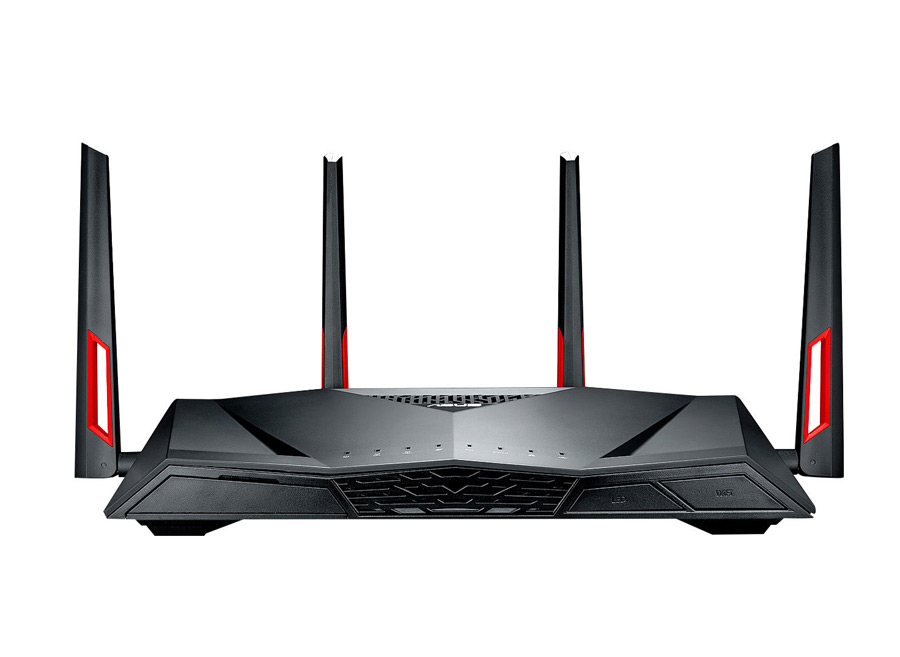 Asus ROG Rapture GT-AC5300 Wireless Tri-Band Gaming Router
The flagship router for Asus, this beast means business!
The Asus ROG Rapture Router features an insanely powerful 1.8GHz quad-core processor and eight antennas for max coverage. Engineered for lightning-fast performance with Game Boost, this ROG router also features integrated support for Gamers Private Network® with WTFast™, minimising ping to ensure silky smooth gameplay.
You can also dedicate one of its three bands exclusively to gaming to ensure zero interference when other devices are on the network.
Even under extreme pressure, this unbelievably powerful Asus gaming router will deliver the results you demand.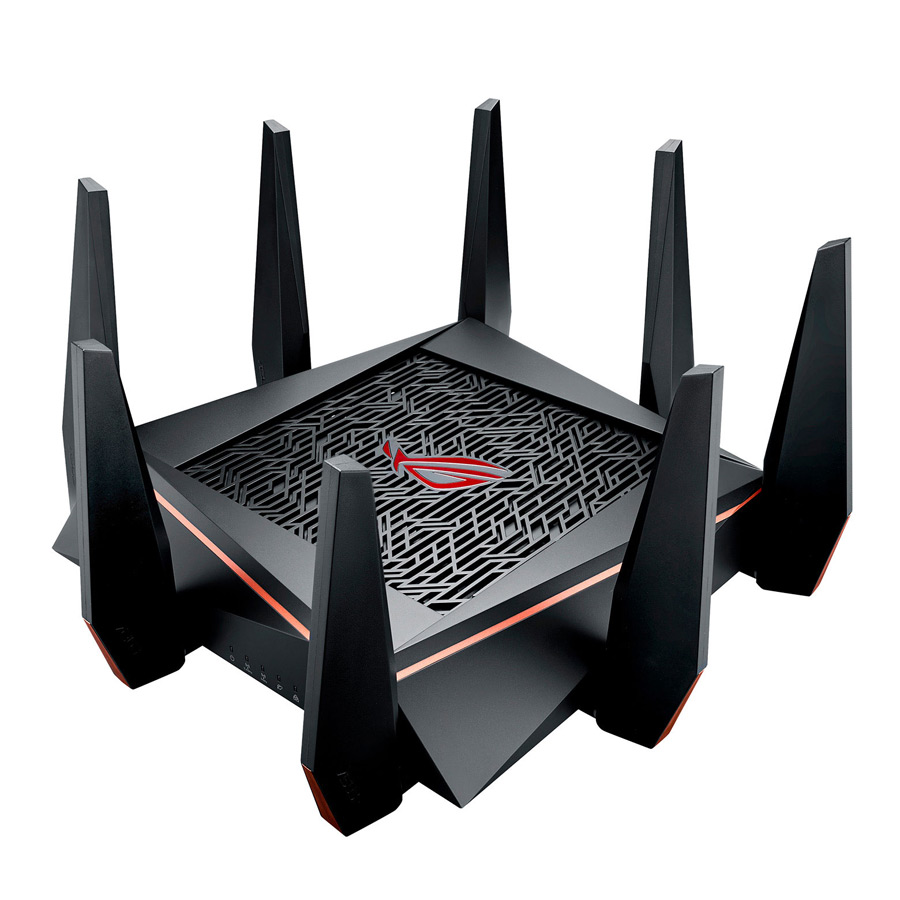 Are you ready to get serious about gaming? You can check out these gaming accessories online and browse our entire range of gaming peripherals and Mixed Reality kits, or you can visit your local Harvey Norman store and talk to our knowledgeable staff.
Want more geek talk? Click here to read our special PAX AUS blog and find out just what makes PAX such a special event for the gaming community.